Description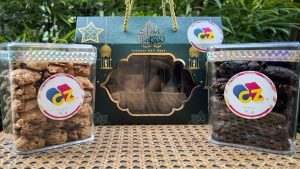 Looking for a healthy yet indulgent treat that you can enjoy without any guilt?
Look no further than our Healthier Cookies set!
What you will get:
1) Dark Chocolate Chip Cookies ($40)
Made with all-natural ingredients and rich dark chocolate, these cookies are the perfect balance of sweetness and healthiness.
Our cookies are made with high-quality ingredients, including whole grain flour, unrefined sugar, and antioxidant-rich dark chocolate chips. They are also free of any artificial flavors, colors, or preservatives, ensuring that you get a healthy and delicious treat that's good for your body and soul.
Each cookie is soft and chewy, with a perfect balance of sweet and chocolatey flavors that will satisfy your cravings without any added sugars or artificial sweeteners. They are also high in fiber, protein, and healthy fats, making them a great snack or dessert option for anyone who wants to maintain a healthy lifestyle.
2) Oats and Cranberries Cookies ($40)
Made with high-quality ingredients, including whole grain oats, sweet dried cranberries, and natural sweeteners, these delectable treats are perfect for enjoying a healthy, yet savoury snack!
Packed with powerful oats which are high in fiber, vitamins, helps lowers cholesterol, regulate blood pressure, weight management and improve digestion, this healthy snack is a must-have for any occasion!